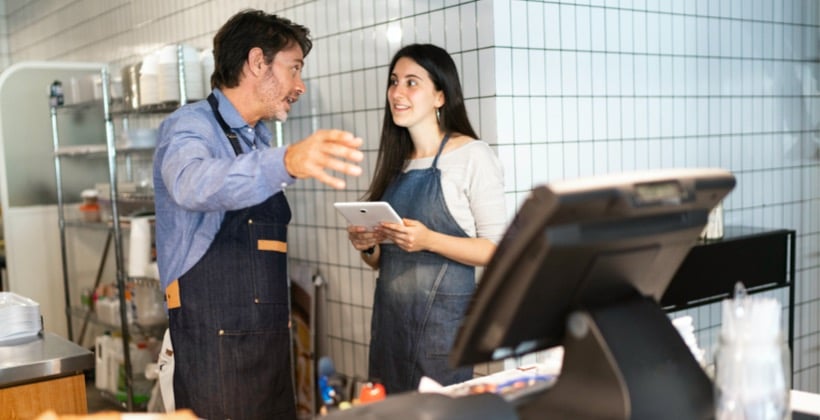 Many industries have adopted mobile first learning for employee training and development. Restaurants in particular heavily rely on mobile solutions to train new hires and improve customer experience. But, like with any new software, there are advantages and disadvantages to using it. Keep reading to understand the factors affecting training and development.
Advantages to Mobile LMS
There are many benefits to utilizing a mobile LMS. Here are the following benefits:
Flexible Learning
In 2020, Millennials will comprise half of the American workforce, and by 2025 75% of it. This generation of young workers has grown up with technology at their fingertips. They can pull up how-to articles, watch videos, and easily learn on the go. A mobile LMS provides a self-learning format that can help workers just in time. A line-cook can easily glance at your company's best practice for making an omelet. The lobby desk manager can watch training videos about customer service goals during downtime. As a bonus, learners can pause a course and come back to it later. They can also plan and schedule their own training time. Learning in the moment while adhering to company standards offers a positive learning environment.
Variety of Content
It is easier than ever to distribute, change, and create new training content with a mobile LMS. Add videos, images, and lessons to make training engaging. When creating video content, keep it short to a minute or less. Add captions so employees with limited hearing can understand. The best part is that employees can choose which format works best for them. This will also lead to higher interactivity. New features will keep employees engaged.
Team Collaboration
An emphasis on teamwork and collaboration creates a supportive work environment. With a mobile LMS, employees can receive the same training across devices. The consistency in training will spill over into positive customer experiences. Workers receiving training can work together on courses and give helpful feedback. Adding chat rooms promotes frequent interaction and sharing of ideas.
Disadvantages of Mobile LMS
There are challenges companies may face when delivering training content. Here are the following issues:
Decreased Motivation
Employees must feel motivated to succeed in their position. Without a structured environment, completing mobile courses can be difficult. Staying on track to complete the required courses requires organization skills. Also, there will not always be someone there pushing your employees to work hard.
Distractions
An employee may have finished the course but how much information has absorbed? There may be too much multi-tasking when training while working. It is best when an employee focuses on one task at a time. The solution is to provide learning checks after each course. A quiz will test their knowledge before passing to the next course.
Mobile-first learning is here to stay. Learn more about the barriers to learning in organizations in our inclusive guide: Why a Mobile-First (vs. a Mobile-Responsive) Training Strategy Wins Every Time.