Avoid Corporate Training Pitfalls with These Benefits of Mobile Learning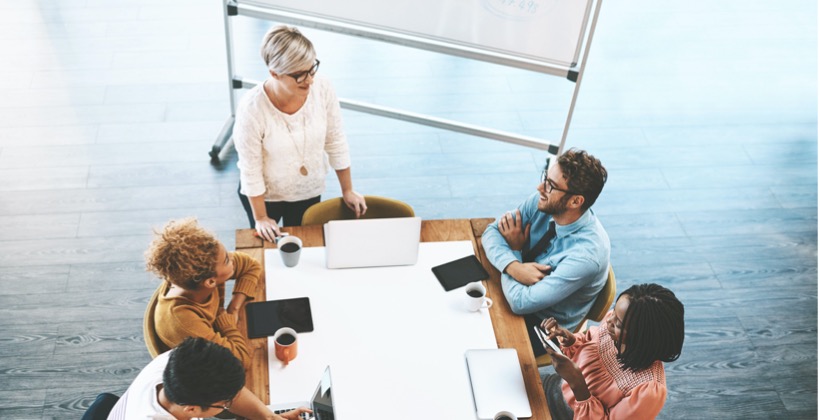 Turnover rates are at an all-time high in many industries. In October 2018, 3.5 million employees voluntarily quit their job. There can be many barriers to training and retaining employees in the workplace. Recently, several benefits of mobile learning have rapidly changed the game in corporate training. Regardless of their background, any employee can succeed through flexible scheduling and personal eLearning guides.
Benefits of Mobile Learning
Applying mobile learning in the workplace can improve employee happiness and retention. When employees are not required to attend long in-house training, they don't have to travel or adjust their schedules. Whether you work in hospitality, food, and beverage or customer service, all managers can benefit from implementing mobile learning techniques.
Flexibility
Mobile learning is accessed from anywhere at any time. Employees can finish pieces of training during breaks, or after a rush, without ever having to leave the floor.
Team Collaboration
Employees can give feedback and comment on different training lessons. As a manager, you can also observe which eLearnings are most beneficial.
Utilize Multimedia
Adding videos, images, or microlearning will allow employees to stay engaged during a lesson. Allowing the option to choose which format to complete the lesson gives control to the user. This also instills trust between management and employees.
Microlearning
Microlearning content delivered in a bite-size form is easy to consume and more concise. It allows employees to complete learning courses in segments rather than sitting through long training sessions. By having mobile learning, employees can seamlessly pick up where they left off without having to leave the store floor.
Drive Engagement
Employees now expect companies to adopt new technologies. Today, handheld learning is tailored to a workforce that can access information on any device. Mobile-first training videos are the kind of fallibility workers today want.
Personal Learning Paths
Every learner is different. With in-person training, some individuals may lag in a group. Employees who participate in mobile learning can work at their own pace.
Training Challenges in the Workplace
Delivering training content seamlessly and efficiently faces several challenges. Avoid these corporate pitfalls at the next training session.
Printed Materials
Physical training materials are impractical for hands-on training lessons. After the training, the documents end up in a folder that is never looked at again. Oftentimes, the material will be thrown away or lost. Not to mention, the printing costs will add up.
Remove PDF
Forget digitally replicating print media to a PDF file. Employees are less likely to read numerous pages full of training material. In a recent article, 40% of PDF reports are downloaded less than 100 times. Also, depending on the screen size, fixed layouts may not be viewed easily.
Inconsistent Software Updating
Software compatibility issues, not upgrading to the latest version, and system crashes can all hinder training productivity. These can disrupt the life span of the software that is used and interrupt a smooth learning experience.
Security Concerns
Companies using a Cloud-based learning machine system can bring the risk of external or internal hacking. Security risks will increase when employees complete training on a personal or administrative computer.
Implement mobile learning in your workplace and reap the benefits during the next training session. Dive deep into how your company can improve employee learning in our inclusive report: Why a Mobile-First (vs. a Mobile-Responsive) Training Strategy Wins Every Time.