A Mobile LMS Supports Hotel Customer Service Across the Board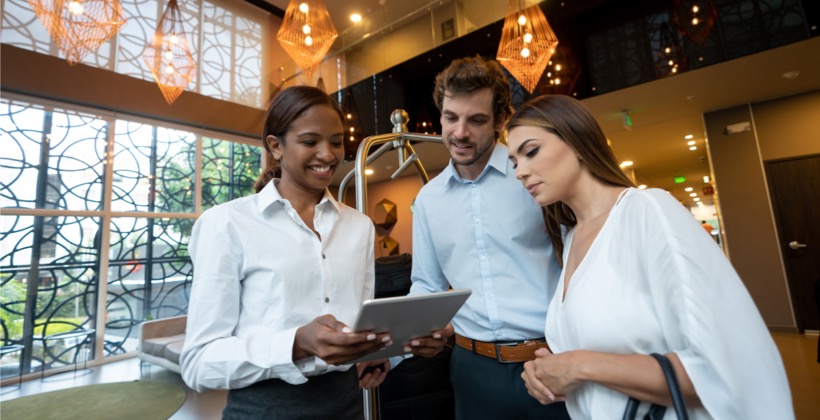 If you named one defining goal of your hospitality business, whether it is one hotel or inn or national or global chain, it probably would be excellent customer service. But customer service is both a single, unifying mission, and a consequence of many diverse systems, requirements, and challenges.
Sometimes you see those functions—from recruitment to employee training to service standards to customer care to maintenance—as distinct departments or vectors. But sometimes you have the luxury of looking at how all can benefit from a single strategic investment.
Today, the latest learning management system (LMS) technology and capabilities have application to virtually every component of the hospitality business that bears upon customer service. Let's look briefly at some of those kinds of functionality that a mobile LMS in its most advanced versions offers your business:
Contact with every employee, on and off shift, pushing out required information and collecting important feedback. To take just a few examples, that means on- and off-site customer check-in; immediate assignment of maintenance issues and monitoring progress in resolving them; notification of shift changes; and critical continued communications if other systems go down. That kind of independent mobile interaction with employees has virtually limitless applications.
The panoply of employee education about customer service and expectations. With PlayerLync state-of-the-art mobile technology, data management, and facilitation of content creation, you make employee education and training available anytime, anywhere. All the mobile accessibility and formats—including video—with which your employees are comfortable in their lives are your training tools.
Monitoring standards of training at every level so you can readily assess the level of your workforce's training, what gaps remain, what needs to be emphasized. And you identify employees whose commitment to excelling in understanding and meeting your standards of customer service make them potential leaders.
Moving from recruitment to onboarding of new employees—both permanent and seasonal or temporary—on a dispersed, ongoing basis. No need to wait to organize classes, purchase and ship materials, or rent classroom space. Employee onboarding begins immediately upon recruitment and continues, in fact, throughout an employee's entire career with your firm.
Achieving a new level emergency preparedness and information security because LMS is your independent, mobile network for reaching all employees anywhere, at any time. In a crisis, when other systems may be down, that is invaluable. And security systems built into PlayerLync technology protect confidential information on your system from getting out of the network.
Accomplishing all of it, and more, at a lower cost because you no longer are creating and purchasing paper materials, shipping them, collecting and storing them, and replacing them replace entirely when new ones are needed. It is all in your system, in one secure location, in digital form. It is ready to be used anywhere by any employee at any time. And because major course programming can be used by employees offline, you don't clog bandwidth.
Keeping in your hands, and on your screen, a picture of the state of employee readiness to excel in every facet of great customer service. You know the state of training individuals, and across the workforce, because built-in to every aspect of the PlayerLync LMS are assessment tools such as quizzes, tests, response forms, employee comment and input venues, and other varieties of assessment. You know where you stand—and you watch the constant progress unfold.
Leveraging modern, mobile LMS tech enables you to build staff competence, staff motivation, and, above all, staff job satisfaction that reduces turnover. Employees today know that constant learning and personal growth are their responsibility—and their right.
PlayerLync's mobile world of learning, including collaborative learning, turns "workers" into career members of your team and makes pride in customer service a shared goal across the entire organization—whether it is in one location or locations across the globe. Here are 5 Successful Steps for Going Mobile...