Another Broken Egg Cafe Takes a Page from the Broncos' Playbook by Adding PlayerLync
Denver, CO – Another Broken Egg of America, Inc. (ABEA), one of the nation's fastest growing breakfast and brunch restaurant concepts, has partnered with PlayerLync to use their cutting-edge content distribution platform to help train employees and improve distribution processes. PlayerLync is a leading innovator in providing mobile content control for industry giants such as Chipotle, Red Robin and Bridgestone, as well as sports teams in the college ranks, Major League Baseball, National Basketball Association and the National Football League, including the AFC Champion Denver Broncos.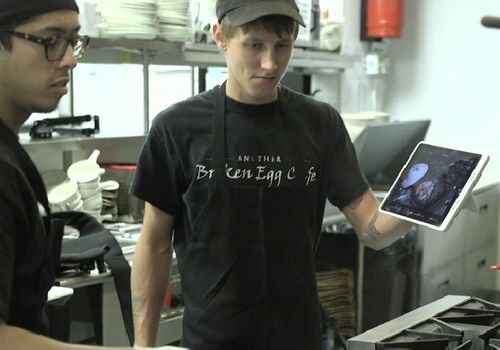 "This is the future of employee training and restaurant operations," said Kevin Armantrout, chief operating officer for Another Broken Egg of America, Inc. "With over 50 restaurants currently operating and an additional 50 slated to open by 2018, Another Broken Egg Cafe needed an easier, cost-effective and secure way to continuously update and share our proprietary restaurant training support 'playbook' that keeps everyone on the same page."
"Working with PlayerLync eliminates the need and expense for paper manuals that are quickly outdated and replaces them with a simple way to deliver, control and track an engaging blend of videos, documents and forms designed to ensure consistency and improve our overall customer experience," added Stuart Ottinger, president for Double R Restaurant Group.
"In addition to being a provider to a majority of the NFL, including the Denver Broncos, PlayerLync has been solving content distribution and control problems for a number of larger restaurant operators such as Chipotle and Red Robin," stated Bob Paulsen, co-founder and chief executive officer of PlayerLync. "We're excited about this opportunity to provide smaller, savvy restauranteurs like Another Broken Egg Cafe with the big league support and tools they need to help them continue their tremendous growth."
Partnering with PlayerLync allows Another Broken Egg to truly deliver on its "chef-inspired, but no chef required" concept. Employees are drawn into videos on tablets to prepare its distinctive, craveable and award-winning menu items without the need to hire highly trained chefs. PlayerLync's mobile content synchronization technology eliminates any interruption or slowing of critical support systems such as credit card processing that might've been affected by a store's limited bandwidth. Restaurants, historically faced with high employee turnover, are now able to train their mostly Millennial-aged workforce in a quicker, more impactful and engaging way. In fact, according to Tom Shapiro, CEO of Digital Marketing NOW, 95 percent of people who watch a video can retain the content 72 hours later, compared to 10 percent who read printed material and achieved the same retention rate.
About Another Broken Egg
Founded by Ron E. Green in 1996, the Miramar Beach, Florida-based Another Broken Egg of America, Inc. concept is an upscale breakfast, brunch and lunch restaurant that provides an alluring, diversified menu at affordable prices. There are over 50 Another Broken Egg Cafe locations throughout the United States with 126 more in development. For more information about franchising opportunities, please visit www.anotherbrokeneggfranchise.com. For more information about Another Broken Egg Cafe, visit www.anotherbrokenegg.com.
About Double R Restaurant Group
Double R Restaurant Group was founded on the principle of excellent food, genuine value and superior service. Double R operates family friendly concepts ranging from Italian cuisine to nutritional and comforting breakfast foods. It is the mission of Double R Restaurant Group to deliver exceptional service to each and every one of its guests on a consistent basis. For more information about Double R Restaurant Group, visit www.dblrrestaurants.com.
About PlayerLync
PlayerLync solves the enterprise content distribution and control problem by automatically pushing and pulling videos and documents directly to tablets anywhere over existing networks, and allows teams to share experiences in amazing new ways. PlayerLync powers mobile content control and teamwork for leading enterprises such as Chipotle, Red Robin, Bridgestone and teams in the NFL, MLB, and NBA, that need to keep their distributed mobile workforces current and consistent. For more information, please visit https://www.playerlync.com.