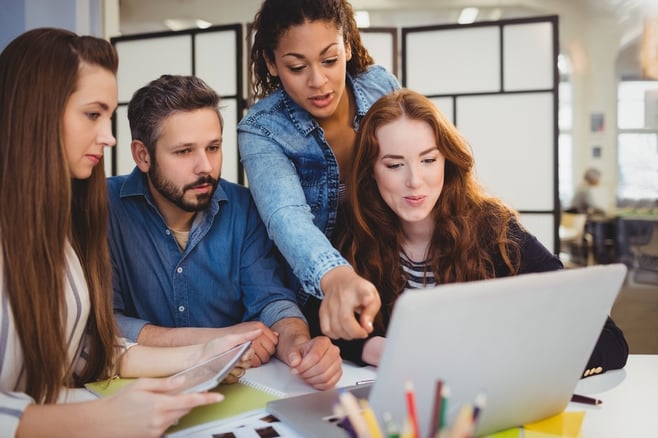 We're not talking the Texas two-step here - this is business. Your business and your employees. You know training is important, but you also don't have an unlimited budget. We've got two steps for you to save money on creating professional training materials (although one requires an up-front investment).
Step 1: Use Everyday Technology
Pretty much everyone walks around with a smartphone these days, and with the level of technology in our pockets, we have some pretty sophisticated video equipment with us at all times. This includes your employees, so why not involve them in creating training documents? Informal videos filmed in a store environment have a loose familiarity to them that stiff, staged training videos just don't have. You'll be saving money on hiring a production company and all of the costs of staging the action when it's happening in your location every single day. Smartphones record in HD, so there's not an issue of quality, and if you crowdsource the content - ask for employees to submit their best training tips and time savers - you'll have plenty of footage to choose from.
Step 2: Make Training Mobile
One of the biggest time- and resource-wastes of all is the paper manual. Sure, you need to create and collate the content, but you can save a bundle on printing and distrubution costs. With mobile devices you can have as many manuals as you have people. The proper content management software can make sure that the training material is updated automatically - even overnight while the network isn't in use for store functions like credit cards and Point Of Sale software. Whether you've made small edits or large additions, you can replace outdated documents easily and cheaply.
Going mobile with your training can also be used for skill assessments and store checklists, eliminating another paper-based cost. Knowledge testing can be recorded and tabulated immediately, with data sent back to the home office and managers simultaneously. Checklists for opening/closing, cleaning, recipes, and other activities can be recorded electronically with a time-stamp to show completion.
That's it. Two steps to help save your company money on training costs, even engage your employees. Maybe you'll save enough to arrange two-step dance lessons for your staff!