Why Restaurants Need Employee Collaboration Software Now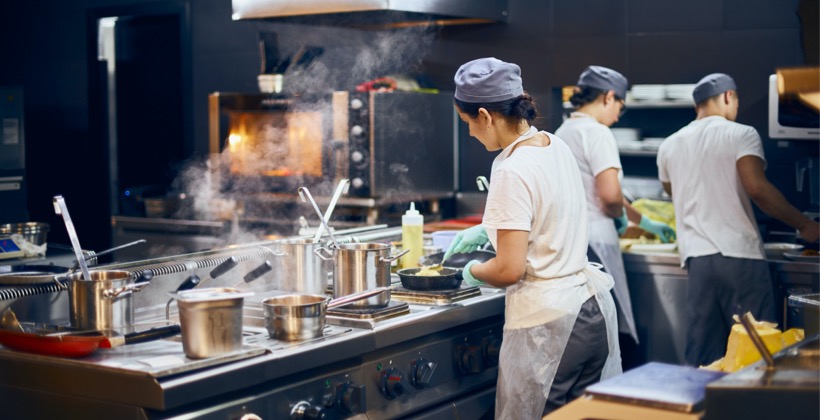 Lack of workplace collaboration and engagement is one of the leading causes of workplace failures. And restaurants have felt its impact more than any other sector. Wondering why and how? Read on.
The Cost Of Poor Workplace Collaboration In Restaurants
Many employees cite a lack of collaboration and disengagement as their primary reasons for quitting. According to the Bureau of Labor Statistics, the restaurant employee turnover rate between 2015 and 2017 hit 81.9%.
But industry experts say the figure could be way above 100% in some restaurants such as fast foods. They further warn that the situation has worsened in recent years. And that's not all.
Restaurants across the country also struggle with low morale, poor communication, inability to attract quality talent, and lack of proper training. But there is light at the end of this long dark tunnel- employee collaboration software.
Working effectively as a team has been shown to address these challenges. And that's why many managers and CEOs are looking for communication and collaboration tools to change this trend. Fortunately, those who have tried employee collaboration tools are noticing significant improvements.
If you haven't, you should jump on the ship before it's too late and enjoy the following benefits.
Supercharge Your Productivity
Most digital solutions today claim to boost employee productivity. However, collaboration tools have been proven to genuinely transform workplaces.
A study by Stanford University found that companies can turbocharge their overall performance by just encouraging their employees to work collectively.
Employee collaboration tools ensure employees get information from a unified source. With studies showing that employees can waste up to 2.5 hours a day searching for the right information, collaboration tools can eliminate this problem.
By integrating workflows throughout your restaurant, you ensure your employees get the assistance they need on time regardless of where they're or which devices they're using. This is extremely important for mobile and frontline employees who have no office and access to a computer.
Reduce Your Turnover
Collaboration has a huge impact on productivity and staff retention. According to a Gallup Study, employee turnover costs companies over $10 billion annually and disengagement adds another $550 billion. This is money could otherwise be used to grow your business.
Solve Communication Challenges
Communication is vital for the success of any working relationship. Unfortunately, mobile employees such as those in restaurants complain that they don't receive sufficient information from their managers.
This affects collaboration adversely as some employees feel left out, unappreciated, or forgotten. Great communication begins with a mutual understanding of facts. With collaboration software, all your workers can get information from a centralized source at the same time.
Unite Your Employees
Perhaps the most impactful benefit of employee collaboration software is its ability to unite staff in an environment that increasingly becoming dispersed. Modern workplaces are beyond physical locations.
Many companies are onboarding and training their employees using different devices including smartphones. That means employees in retail stores like restaurants can join, get training, and start working with minimal face to face interactions.
Companies can, therefore, use collaboration software to help employees communicate and work on projects together over a distance without compromising on privacy and productivity.
As you can see, it is nearly impossible for restaurants to progress today without strong collaboration tools. But more importantly, restaurants will not enjoy the full benefits of employee collaboration software without choosing the right solution and addressing challenges facing frontline workers.
At PlayerLync, we strive to provide the best collaboration tools to empower mobile employees in restaurants. To learn more about how you can empower and enable your frontline employees, read our white paper: The State of Internal Communications for Frontline Employees