Training Deskless Employees to Succeed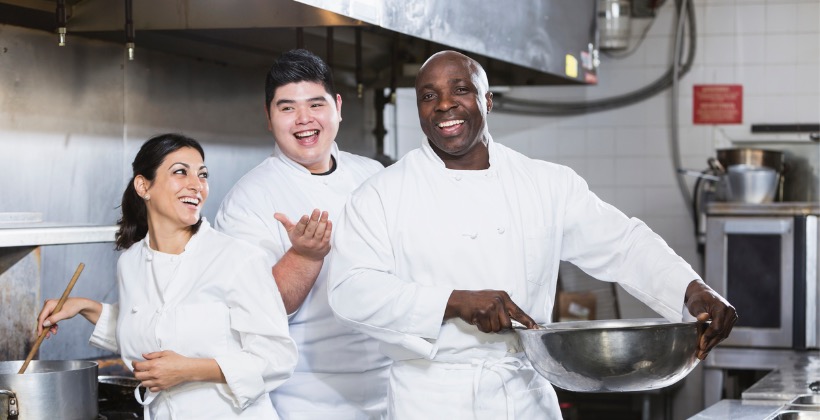 When you go to eat in a restaurant, you likely won't be served by anyone sitting in one static location for your entire dining experience. And chances are good the restaurant in which you dine, technology will be more prevalent and used by the staff in which to serve you best. Restaurant operations are dynamic environments, so it makes sense to train restaurant staff in the environment in which they will work.
So what is the best way to deliver deskless training to restaurant employees? Mobile devices, such as iPads, tablets, or smartphone-size technologies. According to Pew Research, 77 percent of Americans own smartphones. Ninety-two percent of smartphone owners are ages 18 to 29. If you tend to train more Millennials or GenZ-age staff, it's a great time to consider using a mobile device to deliver your on-the-job education. Younger generations are more comfortable with mobile technology and the fast-paced nature of it goes hand in glove for the restaurant setting. GenX and Baby Boomers are also power users of smartphones and electronic devices, so incorporating deskless training should appeal to all ages groups of those you need to provide new or ongoing training to in your restaurant.
On-the-job training has been around for ages, however many businesses still tend to default to traditional methods, such as lectures on procedures and thick paper binders of information. Most people who choose to work in the restaurant industry though prefer the variety of interacting with different people and the social atmosphere that's ever changing, so thick paper binders are likely viewed as a dated training method by those you wish to retain. To achieve a better return on your training investment and to best prepare those who will be your on-site brand ambassadors to your customers, it makes good business sense to train new staff in a language they speak and an environment they will enjoy using a device they will understand. Experiential learning gives your trainees the opportunity to get real world experience that can better prepare them to handle those situations that come up when they are in the thick of performing. Practice really does help perfect performance and that's your end goal. To train staff to best serve your customers who will return over and over again.
Another advantage of incorporating deskless learning for your restaurant's training program is that your customers will expect a good user experience too. If your restaurant uses mobile devices for checkout, order taking, or menu display, customers will need a resource in their server and other restaurant staff should questions come up. They also want to know your staff takes their information accurately and it is secure, so what better way to ensure accuracy and security than with deskless training? Training your staff to be savvy with mobile devices can also be extremely handy when technical troubleshooting needs arise and time is of the essence for customer service.
If you're committed to keeping your restaurant operations relevant with today's technology and the latest training methods, it's time to consider deskless training for your business. Check out our 6 Key rules to Unlock Your Modern Training Program to learn more about deskless employee training.