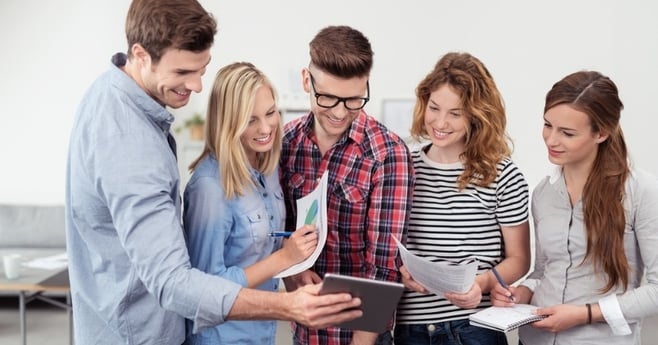 It's difficult to get an easy or cost-effective way to give employees a quality, personalized learning experience on a large scale. New hires require mentoring from managers and experienced co-workers. Existing employees that want to build on their knowledge have to attend workshops, seminars, or conventions. While these are good alternatives for learning and growing as a professional, there's no question that they're a significant investment. These resources are expensive and there's no real way of gauging if any knowledge was gained from the experience.
eLearning solutions are raising the bar for how employees—new and existing—can gain knowledge efficiently through personalized learning programs. We looked at what some of the experts in the field had to say and broke down their opinions into categories that represent what makes eLearning so effective.
One of the major edges that eLearning has over the traditional classroom is usable data generated by students. Employees that take online courses create data as they move through lessons. Anything can be measured on an eLearning course from what questions employees got right and wrong, to how long they spent learning a specific section or question.
Dr. James Walker, Executive Chairman of Zoomi Inc., is a strong believer that data is one of the major reasons why eLearning is growing so rapidly in popularity.
"What you certainly get from eLearning, which you can't replicate in-person, are the consistent quality of delivery and the ability to gather large amounts of data about learners simultaneously," said Walker in an interview with Forbes. (https://www.forbes.com/sites/steveolenski/2017/02/06/why-c-levels-need-to-think-about-e-learning-and-artificial-intelligence/2/#171c4e9f33bb )
"When the data tells you to make a change to the course, you can do that on the fly. Elearning can be tailored to each individual rather than a one-size-fits all instructor approach."
eLearning does not replace instructors, it just makes their job easier and time efficient. Trends set by user-generated data can highlight what's wrong with a course. This gives the course creator the tools to improve and make them that much more effective.
Learning on Demand
Trying to learn new things while on the job takes time and creates challenges for both the person trying to learn and the person teaching them.
Salman Khan, founder of Khan Academy and one of the major pioneers of eLearning, believes that what makes online learning so effective is the pacing and accessibility the services provide.
"Make the knowledge accessible when it's convenient for workers and let them learn at their own pace and in a way that won't embarrass them. In every job I've ever had, I had at least 10 silly questions that I was always afraid to ask. But if you make the information available on demand, and there's no stigma and no shame, people will access it," said Khan in an interview with Society for Human Resource Management. (https://www.shrm.org/hr-today/news/hr-magazine/0516/pages/0516-khan-online-learning.aspx )
Employees can learn at their own pace, and re-learn when they are stuck on a subject. The manager or boss doesn't have to take time out of their day to mentor or answer questions.
Available Anywhere
With the ubiquity of mobile technology, people have more expectations when it comes to eLearning content.
"At home and at work, people expect a kind of fluidity between devices. If they start watching a video or reading content on a computer, then switch to a tablet or phone to finish it, they expect the experience won't be degraded. eLearning experiences are no exception," said Adam Schwartz, founder and CEO of Articulate. (https://www.learningsolutionsmag.com/articles/2143/a-passion-for-empowering-people-adam-schwartz-articulate-founder-and-ceo )
Schwartz points out the main advantage of eLearning is access to learning courses whenever you want and wherever you are. A driven individual or employee has these learning tools in their hands for study or review when they have free time.
Open Communication
One of the most important tools that comes with eLearning is the "two-way-street" of communication. Employees can ask questions and receive answers in a time-efficient way that benefits their personal growth. Managers are also able to determine if their staff is having trouble with a concept through monitoring of the lessons.
"We are living in an increasingly mobile world, where people are continually on the move and ideas are fluid and rapidly changing. Mobile learning supports learning across locations and provides immediate connection between people and ideas," noted Michael Sharples, Professor of Educational Technology at The Open University
Conclusion
eLeaning has emerged as the best solution to the problem of educating a large number of employees effectively. It gives you a way to track how your employees learn, what they're doing well, and what they're struggling with. It also gives you a means to become better as an educator by reviewing student data in real time, constantly improving your lessons and giving employees access where they are – not where the backroom computer or binder is. If they need help they can contact you, and if you think they need help you can contact them. Everyone improves at their own pace, setting a new standard for employee training.