Stop The Revolving Employee Door!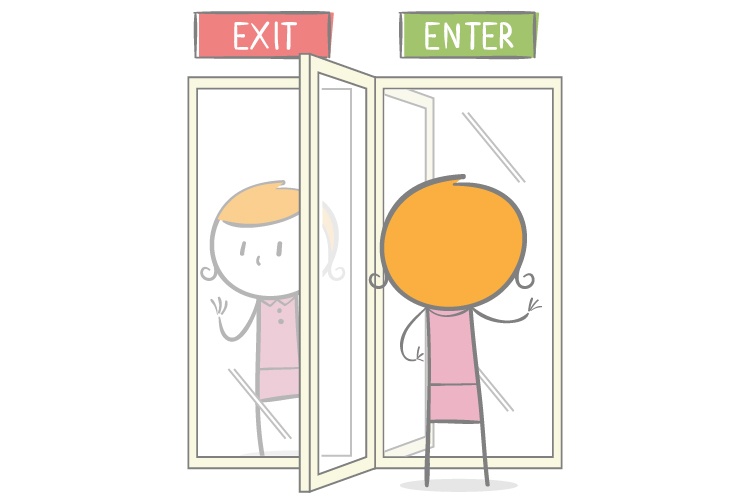 All restaurants have their busy periods - weekend nights or Sunday brunch, maybe, or the couple of hours before a baseball game for restaurants near the ballpark. During the holiday season it can seem like every minute of every day is busy. If you're new to owning a restaurant or a new manager of one, here are some ways to help keep your staff inspired over the next few months!
Hiring
Stopping turnover starts with the hiring process, before you even make an offer. You have to know explicitly what position you're hiring for, and why, and then hire someone who fits the temperament. For instance, if you're hiring a server to be available for the Sunday brunch rush, you won't want to hire someone who's never waited tables before. However, if you have some space to fill in the afternoons and find an eager candidate, it might work to hire someone new to the restaurant business. Don't forget to look internally as well. Say you have a floor salesperson who seems to be struggling with delivering top-notch customer service but who has a nose for tracking down hard-to-find product. This person might be better suited to promote into a back office position as an inventory specialist.
Training
Once hired, make sure you are training your employees properly. They can't know your policies and procedures by intuition. You have to set aside time (either yours or a trusted associate's) to work through scenarios with them, role play, explain your philosophy. But not everyone learns the same way! Where a segment of the population can learn by having the job details explained to them, some people learn best by doing - jumping right in and getting their hands dirty. Also make sure that you pair your new hire with an experienced employee for mentoring. The more people your new employees meet and get to know, the more inclined they are to stick around.
"People quit managers, not companies"
Sometimes it's not the candidates coming in. Sometimes the reason people are leaving is because of your management - which might be you. There's a saying that goes "People quit managers not companies." While this may not be true in every case, you may have to consider that possibility if your turnover is very high. People leaving may not always give honest answers in an exit interview, so it helps to pay attention and survey your staff from time to time. Having a confidant on the floor staff can help - not to have someone rat out their co-workers, but to tell you how people really see you or your management style.
Employee value
Also make sure that your employees know that you value their work and let them know how much they bring to the customer experience. Being praised for their work gives people a feeling of pride and investment in the company. Workers don't leave jobs where they are supported and happy in their career, but they will leave if they feel neglected and unappreciated.
As we said previously, sometimes turnover cannot be avoided, through no fault of your own. Applying these tips should help keep your good employees around, which can lead to a good reputation in the community. When your company is highly regarded, it can bring better candidates to your door which can in turn reduce employee churn, because people want to stick with a good situation.