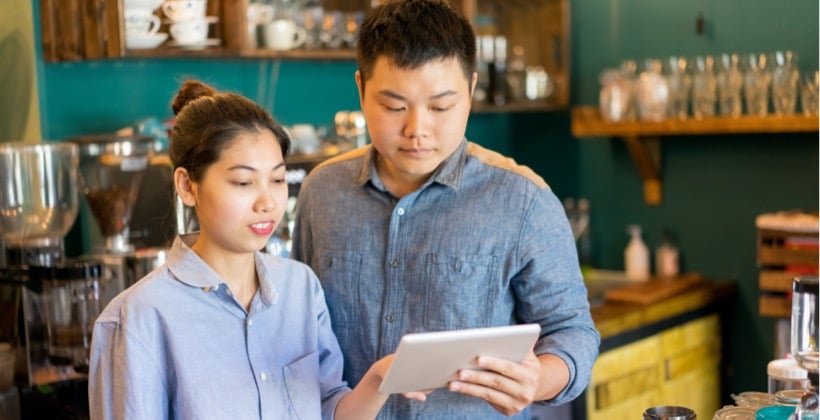 Employee engagement is a serious game-changer for businesses, now more than ever. With eager millennials entering the workforce, technology can help with real-time solutions and engagement methodologies. When engagement and retention is high, your employees will feel inspired to complete tasks efficiently. Whether you are working in retail, hospitality or the restaurant industry, adding new ways to drive success can make a genuine difference.
Strong companies continue to invest in technology to encourage the sharing of information and creative thinking. Millions of businesses rely on technology to talk with their employees and potential customers. A combination of social media, flexible training and virtual technology will establish a unified work-life balance. Take a look at these four ways technology can improve your game plan.
Allow Personal Work Devices
As long as compliance is maintained, allowing employees to work, collaborate and communicate across devices is a progressive move. This is the age of smart devices, and they aren't going away. Look at them as a way to connect from anywhere. Whether at home or work, people are constantly hooked into multiple devices. Also, workers will be more satisfied with using devices they are familiar with. A company needs to be clear and concise about the level of compliance the company and employees must work with.
Utilize Gamification
Make training and eLearning courses fun by adding game-oriented thinking to the mix. Weekly training assignments will become tedious without a healthy dose of competition. Gamification is a crucial concept in driving employee engagement. By using a combination of productivity and technology, employees can share their work progress and gain recognition. A strong gamification plan works well if:
Tasks are broken down into smaller portions
There is a trigger to complete the action
Users capability is increased
There is motivation to perform the task
A reward is offered to gain recognition
Increase Social Engagement
Use technology to your advantage by implementing feedback channels that allow employees to communicate at work. Engaging socially with co-workers is great for strengthening work relationships and increasing brand engagement. Having a platform to actively post about new ideas, company projects and services can even help your organization reach potential clients. This will help make employees from all departments feel connected.
Boost Workplace Training
Blending learning styles and tools will stimulate a worker's interests. They will become more attentive when they have the flexibility to finish the assigned tasks at home or work. As a result, these methods will increase workplace performance and motivation. Take advantage of an employee's enthusiasm to learn and create a combination of these learning methods:
eLearning tools
One on one sessions
Individualized projects
Virtual classrooms
Individualized coaching
Seminars
Workshops
Shadowing/mentoring
Every year new tools and devices are thrown into the workspace. Technology opens new ways to connect and grow within any industry.